Operations at Sea - Page II
The Navy (Australian, New Zealand and British) played a key role in the Far East and we'd like to show more images and publish more stories on this page that we have dedicated to them. Here is page 2 of our memories of Operations at Sea.
---
These first images have been sent to us by Rod (Banjo) Hinchco. Rod served on HMS Ickford and then HMNZS Santon. He first wrote to us saying:
"Guys, even as a Kiwi, I served first on HMS Ickford and then HMNZS Santon... Go for it with all you have. You deserve the honour. If your country can't bring itself to recognise you....then rest assured, we do from down under..."
When Rod sent his message I asked for some piccies and for some of the background to them - as well as his OK to publish them. He said:
"Yeah, be happy to Barry. It's a great site and your cause needs support. Having served for a couple of weeks on Ickford, I considered myself, at least in part, to have been treated similar to your guys, (for my RN time). [Rod refers to teh ban on Brits wearing the PJM. Ed]. I have one of your badges and wear it religiously even when challenged by our own Returned Services Association, so the cause is better known here as a result."
That sort of support from 'down under' Is very humbling to us Brits who are fighting for a very simple justice - the right to wear the medal we have earned.
Rod's images will bring back many memories ... but then read what he wrote 40 years after he served in the Far East. Ring any bells?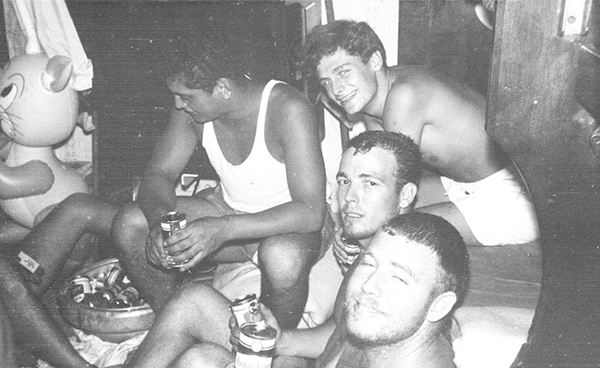 "Hi again Barry, just looking back over these shots...the one on the messdeck was on HMNZS Santon (We borrowed it off you guys.)
In the singlet -Wally Pitman, on the bunk - 'RN Andy' (he was co-opted over from the RN for experience), bright eyes is yours truly, Banjo Hinchco, and the sleepy looking character went by the handle of 'JB' (Could have stood for 'Jelly Bean').
This was taken Nov 16, 1965, Banjo's 21 birthday, so the grog was smuggled stuff."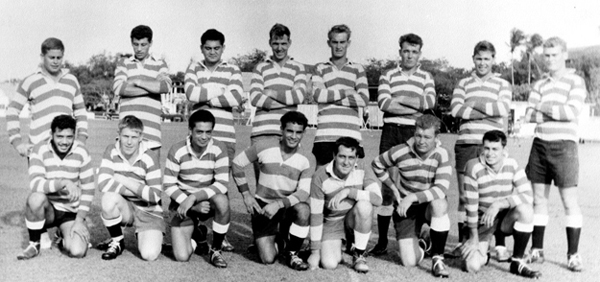 "The rugby team "
---
Rod then says: "The other shots are simply hits mostly in the Malacca Straits, after the 'close encounter' routines, as depicted in the photo I have sent you."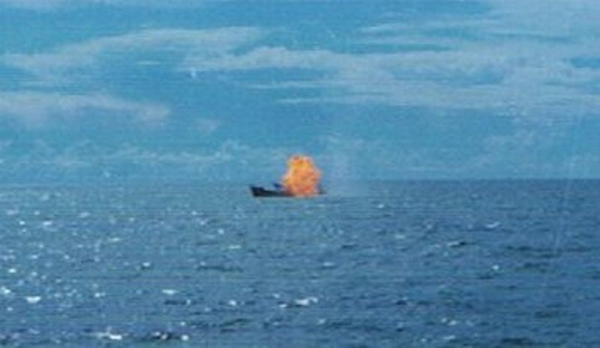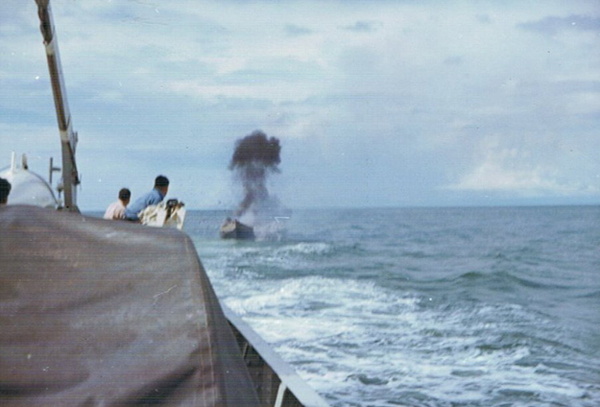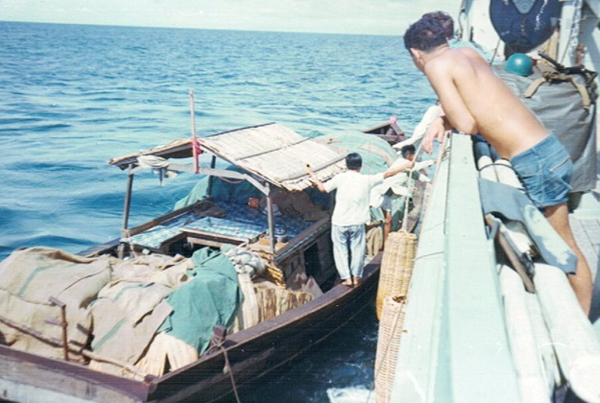 This image is titled "The Old Way"
---
And here is Rod's evocative and thought-provoking poem:
"In an Asian River:"
Copyright R.E.(Banjo) Hinchco 2006

Adrift on the still grey mists of morning,
on the river, cold, serene.
No form, nor shape, unsoftened,
in this dream. This frightening dream.

No sound, save an eerie murmur.
No perspective, just a paling grey.
It seemed the world was made of nothing.
It seemed to be so far away...

No sounds of life, no children laughing
No flop of fishes on the run.
No wild fowl flapping cross the water.
It seemed the world and I were one.

This softest dream. So cool, refreshing,
this ghostly journey, I'd begun
to find the killers in the marshes,
to kill them all, and save not one.

And then the monster bore down on us,
with giant legs astride the path.
The waters even started trembling.
Warning of an aftermath.

The flash of rifles from the jungle,
and volleys from the bridge above.
Two men fell, one right beside me,
he'd become a snow white dove.

They'd send his tags back to his family.
They'd say he'd done his duty well.
They'd glorify this war he'd fought in
Oh how the livings chests would swell.

Someone died. Plucked like a petal.
Others too would meet that fate,
and someone, somewhere casts more medals,
not worn, but stacked at heavens gate.

And they would send more young men forward,
all to fight another's war.
And they would die, and thousands follow
and when they died, ten thousand more.

And as they lay them in their caskets,
all their gold braid shining bright,
the Generals back home, stir from sleeping,
dreaming up another fight.

They'd dress the dead with pomp and glory.
A smarter sight is seldom seen
and they'd use cotton waste, and Hessian,
to fill out where their legs had been.

Oh don't you cry, wives and mothers
Think of the glory, these brave lads bring.
Give freely of your sons, your lovers
The Generals hardly felt a thing.

Send them all your sons, your brothers,
send them all your fathers too.
Dig em out, from kids to lovers.
They will take them all. There's still too few.

The more we lose, the greater glory.
It matters not for whom they die.
Another page, in life's great story,
It all started with a bloody lie.
I said you'd find it evocative and thought-provoking!
---
Go to: Operations at Sea Page I
Go to: Operations at Sea Page III
---
Your turn now!
If you would like to comment on this page, please click here and send us your thoughts.
---
And here are some comments we've received:
This first message was received some time ago. Unhappily, I have to report that Pete died in June this year (2009). Yet another ex-serviceman from Malaya-Borneo dies knowing that civil servants wanted to prevent him wearing the medal he had earned and that they had knowingly prevented The Queen from giving him Her permission to do so - just as She had the rest of the Commonwealth!
Subject = Operations at Sea
Comment =I served on HMS Ickford and saw the dirtier side of the confrontation in 1964, both in the Singapore Straits and Borneo. Please let those who gave life and limb wear their medal with pride. We had the task of bringing the above mentioned vets home to safety. A job that was not pleasant.

(Pete Swann, ex-RN - d. June 2009)

Subject = Operations at Sea

Comment =I served with Pete Swann on HMS Lincoln And HMS Ickford on both Borneo patrols and in the Malacca Straits.


If you watch the Remembrance day Ceremony at the Cenotaph, try counting the Medal ribbons on the chests of our illustrious members of Parliament. I think you'll find nearly one!! Perhaps this explains the shoddy treatment our current and ex-servicemen receive at their grubby little hands.

(Dick Wyatt - contact details supplied)