10 Port Squadron Royal Engineers - Part I
We receive many interesting emails from PJMers and they evoke stunning memories. Sometimes they tell a fascinating story that many of our readers will not have heard before. Hopefully, images accompany the email. Occasionally, the message also makes an important point about the wearing of the PJM.
A few days ago we received a message that contains all those elements and I wrote to the sender asking permission to publish our correspondence and the accompanying images. That permission was given without hesitation - so here is this fascinating story, told in the words of Jim Balmer, who served as an officer in 10 Port Squadron Royal Engineers.
While reading this story and reflecting on the evocative images, it is worthy of note that Jim served in Singapore between 1960 and 1961. The Squadron carried out some extremely dangerous duties – duties without which those 'up front' could not have operated. But like many others at the time, he and his men did not receive any recognition from the British. As he says, the PJM will mean more to men and women like him and those in his Squadron who have nothing to show for their service in the Far East.
Back to the story. We think our readers will thoroughly enjoy Jim's account of his time in the Far East, and the images that accompany it. I know that I learned a lot. So put the kettle on and enjoy!
---
Jim, who retired as a Major TD, arrived in Singapore in 1960 as young and newly commissioned Second Lieutenant in the Royal Engineers, to take on responsibilities that would make Health and Safety 'executives' turn grey. He wrote:
"I served with 10 Port Squadron, Royal Engineers, at Tanjong Berlayer, 1960-61. This Squadron was responsible for handling the explosive war stores for Malaya, which had to be unloaded in the roads outside the harbour. We were also the first transport link for Gurkha units based on the island of Blakang Mati when they were moving up-country.
We also had the dangerous task of dumping time-expired explosive ordnance at sea, some of it dating back to WW2. This was a fully operational and hard-working Squadron but, because we were on the wrong side of the Straits of Johore, we were denied the General Service Medal. The PJM would go a long way to redressing the petty officiousness of the civilians in the War Office."

Lighterage Troop, 10 Port Squadron Royal Engineers

"I can't immediately remember all the names but the middle three are Ssgt Paddy Gibbons, myself and WO2 Paddy Cully. Paddy Gibbons, an excellent skipper and navigator, was at that time in charge of the watch tower. A friend and drinking companion of Brendan Behan, he was the fastest man I have ever seen with semaphore flags or an Aldis lamp. Paddy Cully, a first rate soldier, had just left me as one of the skippers on promotion to SSM.

Several members are missing from the photo, including Sgt Ivory, one of the skippers, and Sprs Brown and Clements following a rather wild birthday party."

[We have received this email from Ken Leask:

"I was one of those in troop photo, end right middle row L/CPL Ken Leask from 1960 to 1963. I was wondering if any of the old gang have seen the pictures of our craft and would like to get in touch. Also served in Brunie conflict Dec 1962 till may 1963, returning to UK, 17 Port Sqn RE, in June 63. Hope to hear from a few. Cheers, Ken"

If anyone wishes to contact Ken, send us a message (click on Contact at the top of the page)]
---
Jim's story continues . . .
"I owe my time in Singapore to the diligence of Charles Matthews, who was serving as a captain in AG7(O) at the time. He had been leafing through the papers of newly commissioned officers, as staff officers do, and happened to spot my background and qualifications. He immediately jumped on the train for Chatham and tried to persuade me to relinquish my posting to BAOR in favour of going to Singapore to try to keep the boats running. I was apparently the first marine engineer the Corps had seen since WW2 and the boats had been built with a life expectancy of 10 years, how my posting was a good one and 'stop me at any time if you don't want to miss out on Germany'. I could hardly get my 'yes' in!

A quick session on ship surveys from my Prof and my tutor and a fortnight at Marchwood learning how to handle and navigate the things (normally a two year course) and I was off.

The Lighterage Troop operated two of our Z-Craft, the tugs and the harbour launch. Our other two Z-Craft were operated by Malay civilian-employed crews. I commanded the the Workshop Troop, mainly locally employed but with a handful of soldiers.

I was actually sent out there originally to see whether the aging and decrepit Z-Craft could be kept in service until new landing craft were built. Much of the work was done by my own Workshop Troop, but I also instigated and supervised major repairs and modernisation, carried out in civilian shipyards. Towards the end of my tour I was also given the Lighterage Troop; its commander had returned to the UK and his replacement decided to re-badge to the cavalry so that he would be allowed to keep his polo ponies. This meant that I now had over half the Squadron under my command, fortunately with as fine a bunch of soldier/sailors you could ever hope to meet.

All this as a second lieutenant - heady days! My successor there was Winnie Winskell, the most senior Captain in RE (Transportation). The first of the new craft arrived shortly after he did and on his first long proving trip he won an MBE for gallantry after coming under attack while sailing up the Brunei River.

The PJM would always be as much for those wonderful Malays, Chinese, Indians and Tamils as it would be for me. I hope that many of them lived long enough to receive their own PJMs."




The military port, Singapore
The port was on the site of an old shore defence battery, which is on the left. The nearest tower housed the Q Stores (non-technical). The second tower, overlooking the entrance to Singapore Harbour, housed the Craft Control and the Duty Watch.

Below, to the right, are the Squadron offices. Almost hidden behind the trees at the bottom of the hill are the offices of the IWT (Inland Water Transport) troop commander and the guard room. The long, low building was a godown (store) for goods in transit. The hard (ramp) is towards its right end. with two Z Craft alongside. The Romney shed at the right housed the Workshops and the Q Tech Store.

Singapore was a port where most ships had to be unloaded and loaded 'in the roads' and not alongside quays, and all explosives have to be unloaded offshore anyway. The Squadron had four Z Craft, a number of dumb barges and two harbour tugs for the purpose.




Z22 Zadar

All 60 Z Craft were landing craft built for the Royal Navy in India in 1943. They were 134 ft overall x 30 ft, with a displacement of 216 tons The navy disposed of them in 1946-7 and several were to be seen around Singapore in a wide variety of civilian adaptations. Our four were operated by the RAF in the Persian Gulf before being acquired by the army.

The design was simple - the hull was divided into deep tanks for carrying fresh water or fuel, while the deck was flat, for wheeled or tracked vehicles, general cargo, troops - or splendid parties. Power was provided by two National diesel engines and manoeuvrability was splendid; unladen, they could spin on their own aft end.




Z23 Zante

By 1960, they were well beyond their design life. In theory they could carry four Centurion tanks; in practice nobody would have been surprised if a three-tonner went through the deck. My task was to do what could be done to keep them working for another couple of years until a new breed of landing craft was delivered.




Z 25 Zeebrugge

Z22 and Z23 were operated by Army crews, Z24 and Z25 by locally employed crews, mainly Malay. The paintwork was better, but the metal was just as thin!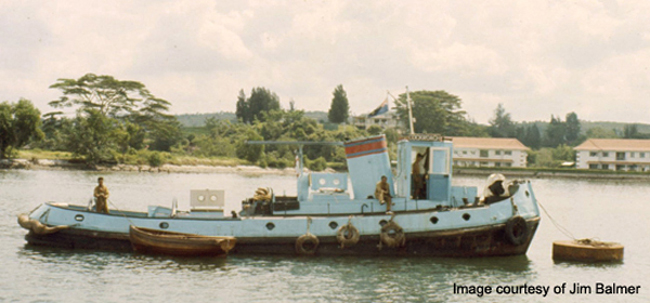 The tug, "Cockroach"
This was a Sturdy type tug, powered by a National diesel engine. Don't be misled by the funnel - it housed the exhaust pipes and the toilet, not a good combination!
---
Go to the Port Squadron Story Page II
Go to the Port Squadron Story Page III