10 Port Squadron Royal Engineers - Part II
The story so far ... In 1960 Jim Balmer, a newly commissioned officer in the Royal Engineers, thought he was on his was on his way to BAOR, but one of his mentors spotted that he was not all at sea with boats. In fact he was ideally qualified as a marine engineer to sort out problems with ageing WW2 craft that were based in Singapore. Unless those craft were kept operational, the explosive war stores needed in Malaya would be in jeopardy, and the anti-terrorist campaign would be up the proverbial creek without a paddle, so to speak.
Read on ... and read about the wonderful locally enlisted and employed personnel who helped deliver a successful end to Jim's Far East saga.
---
The Workshop Troop
The workshops were small but coped well with everything except major hull repairs. All but two of the workers were local civilians.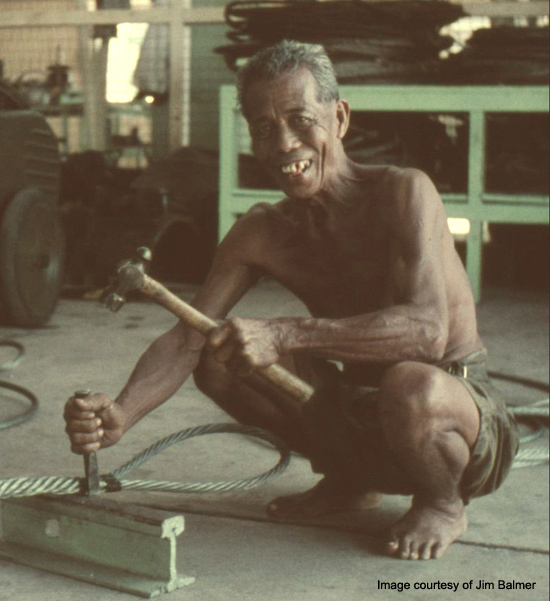 The Rigger: Kertar bin Awang
Kertar bin Awang was always cheerful. He could use his feet like hands and it was amazing to watch him holding a steel wire rope in each foot while he spliced them. Sadly, he died while I was there.

My Chinese foreman and I used to go to visit him in his latter days. He lived in a kampong built over the sea on Pulau Brani, and every house was brightly painted in all the colours we held in our store! Contrary to the wit of our Australian Troop Commander, the cause of death was not rigger mortis.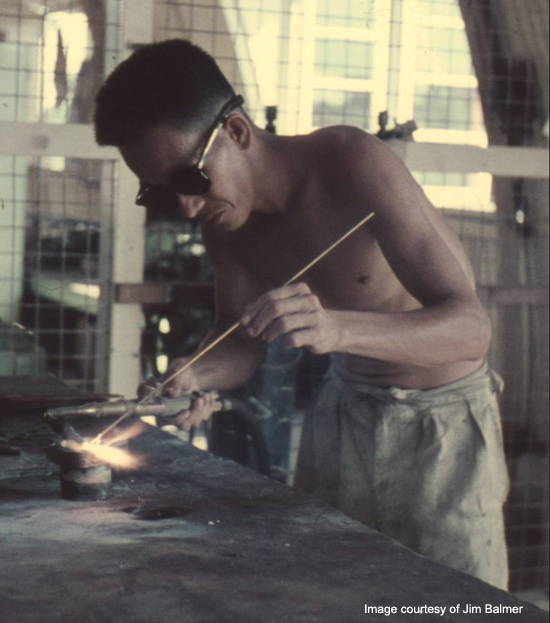 The Welder: Tan Gim Ngee.
His day of glory came when the skipper of a Z Craft approached a ship we were unloading in a gung-ho manoeuvre and put a sixteen foot gash in its side just above the water line. We sent Tan and a gang to do a very effective temporary repair.

One of our Fitters: Balasamy.

Balasamy spoke no English and was a quiet man anyway, but he would touch his hat nicely and get on with the job.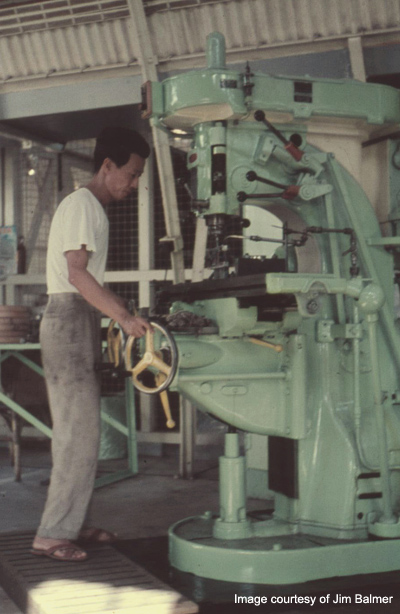 One of our Machinists
Sadly I cannot recall his name, but he was Chinese and very good.
---
Go to the Port Squadron Story Page I
Go to the Port Squadron Story Page III